April 14, 2022
Easter 2022 Update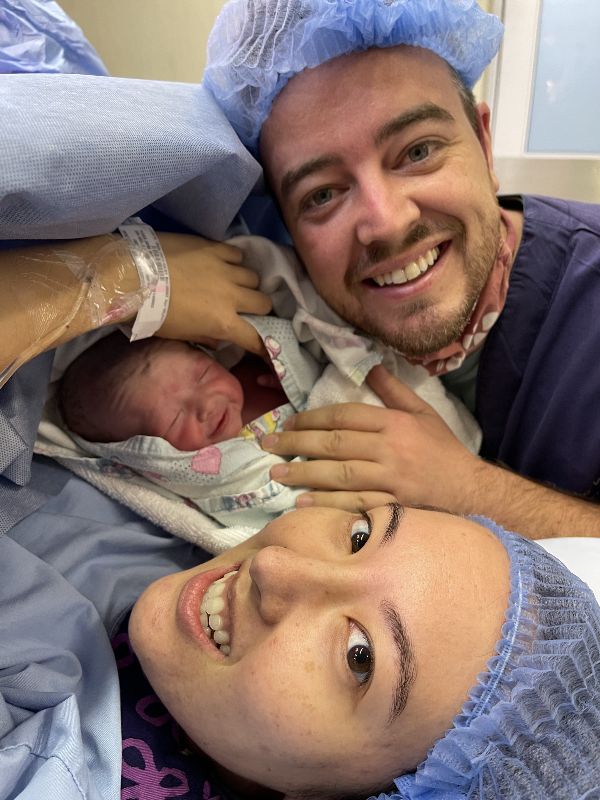 Hi friends! We've been a bit sleep-deprived for the last six weeks since Levi was born, but we starting to settle in as parents of three little ones. Zach and Isa were excited to meet Levi when we brought him home from the hospital (photo below). Zach has been helpful in fetching us things when we are immobilized by a sleeping baby in our arms. Isa exclaims "baby!" every time she sees Levi and keeps offering to pick him up, though she's not quite strong enough yet. Mom Hom who has now been in Eswatini with us for almost a year has been amazing in helping with cooking, cleaning, and holding the baby so we can take a quick shower. We're all looking forward to when he cracks his first smile, says his first word, and takes his first step. We're patient because we know what's around the corner.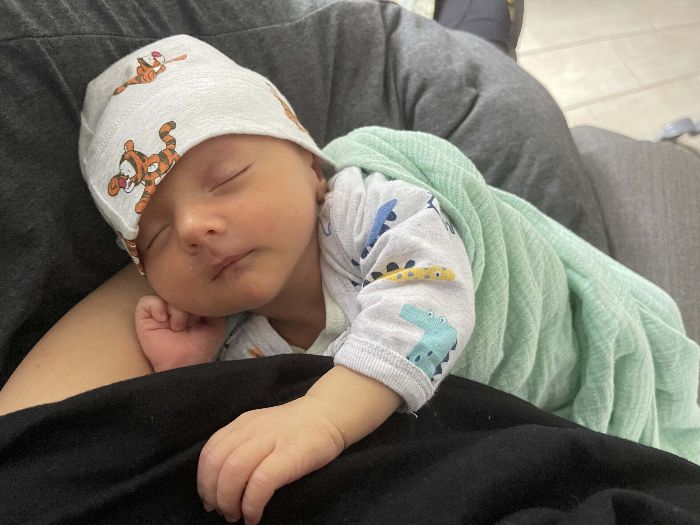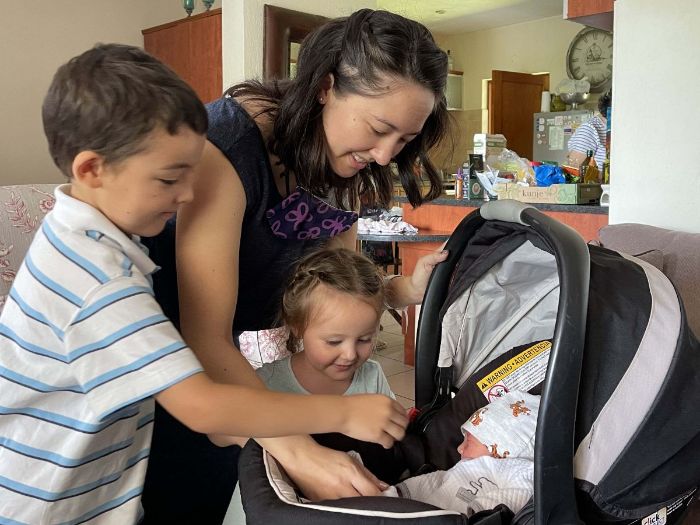 The leadership campus we're helping run, Umdoni, is in the same expectant place. We can see some exciting developments in our staff, students, curriculum, and programs. The pieces are aligning; you just need to have patience and perspective to see it.

Melinda at 8 months pregnant, with our dog Archer. The maize was planted by our Umdoni students and staff using a new method that might one day revolutionize maize farming for Swazi homesteads.



Beyond Umdoni, we see fruit in our staff and leadership. It's not the rushing, organized, American-style leadership we know and love, but it's not super Swazi either. It's something new and fresh; hopefully a healthy balance.

It's possible that what we're seeing is a mindset shift brought by this year of protests. Or maybe we're seeing the fruit of the intentional change AIM has brought through increased local Swazi leadership and dynamic regional teams.

Several years ago, one of our local staff confided in us, "we like having you here, we get to act differently because we can say we work for Americans who make us do it this way." He appreciated that he was able to use us as an excuse to do things the way he wanted rather than how his culture would normally demand (which he believed does not always honor Christ). Now we're seeing Swazis starting to say how they feel and stand for what they believe in. They are starting to bravely bring things into the light and wrestle with moral and national issues- what a difference!

With all the cultural changes, we're seeing the dire need for our Family Strengthening program to be fully set up and implemented. A friend of ours shared her shocking personal life with us. Let's call her Grace. She is a bright young woman and wanted to go to university to make something of herself. Grace was in love and got married- a significant event here since men usually have to save for several years to afford the "bride price." As is customary, she moved to his family's homestead, which is several hours away from anyone she knew.

Before their marriage, her fiance told Grace she was free to break it off because he knew it might be scary to be married to an HIV-positive man. But Grace was steadfast in her love and insisted they would make it work. Not long after the wedding, the new husband decided he was tired of using protection. Grace was forced to bend to his wishes.

Distraught with the violation and other mistreatment from her husband and in-laws, Grace desperately wanted to leave the marriage but felt stuck. She then also found herself pregnant, which she wasn't emotionally ready for. Grace struggles to earn a basic living and buy clothes for herself and their child- most married couples have separate finances and the women often end up handling the majority of the family items such as groceries and school fees.

Grace's in-laws told her she wasn't worth investing in and asked her husband why he married someone who grew up poor. Still, she decided to find a way to go to college by working odd jobs and through a scholarship.

For some students here, a scholarship doesn't actually help them much- it's normal for family members to try to share the use of whatever their child is awarded. Unfortunately, most scholarships here are actually loans, so if the family takes a sizable chunk for themselves, it leaves the student in debt and unable to afford their school materials.

Lately, Grace has been forced to wake up at 3am every day and work chores until 6am so the extended family can eat breakfast. She then is either required to take care of all the homestead's children or she commutes several hours by bus for her classes.

Grace's young daughter wakes up with her each morning, and since bedtime isn't a "thing" in most communities here, she goes to sleep at 10pm each night when Grace does. That leaves Grace's daughter irritable and drowsy. Grace finds herself feeling guilty at the bitterness she has toward her unplanned "difficult" child.



---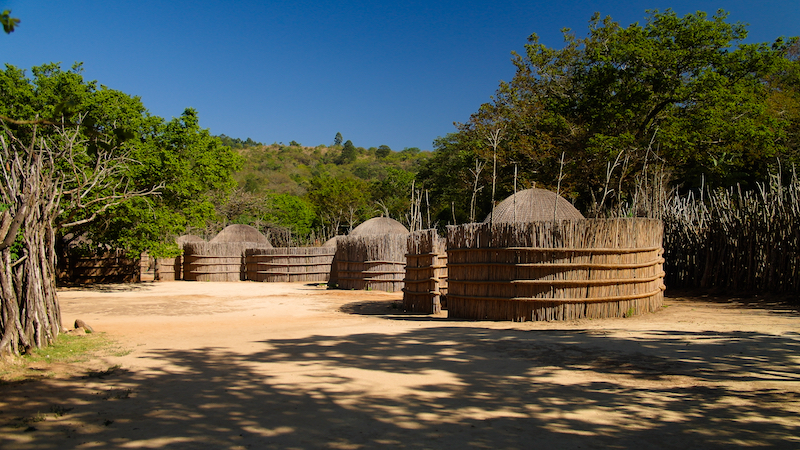 "Raised by a village" can often mean having many unhealthy influences.
---
Beyond this, several adult friends have told us that they recently found out they were the result of a secret affair. They are not legitimate heirs of their fathers and have no rights in society until they find their "real" father.
One of these friend's father doesn't yet know the truth, and this friend is scared to tell him out of fear of being disowned. It's common for fathers to write out children from inheritance and stop communicating. Some fathers curse their now-adult children or go as far as to sue their own child for "tricking" the father into raising them from birth.
---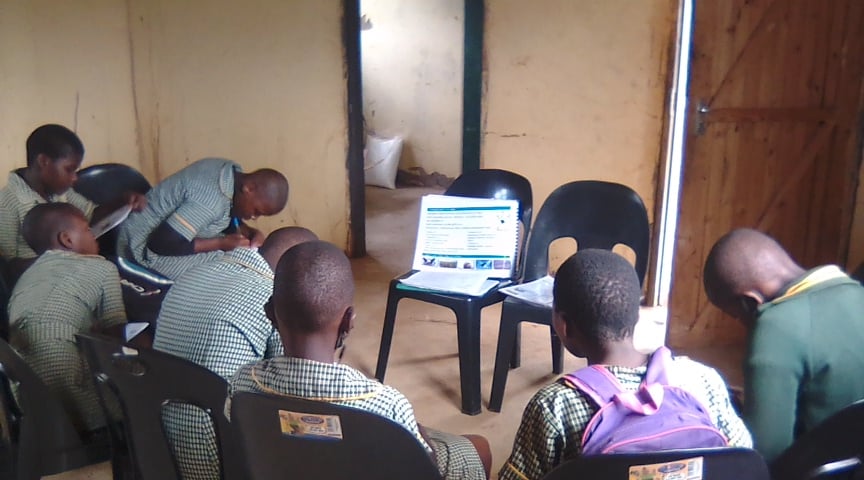 This is a grief support group course for children who've suffered a traumatic event. Each year, this course helps radically shift the mindset of children toward positive hope-based outcomes. These sessions are led by a young empowered local from this community. A modified version of this grief group support course is now happening for adults in our communities. It's a start!
---
There are countless stories we could share, but each of these painful problems has the potential for positive change. We see hope through our ministry's new Family Strengthening curriculum, workshops, mentoring, and mediation. The current national climate is ripe for these conversations to have a deep and lasting impact.
The best way to start is to get dedicated staff on the ground; we're hoping you can help us get that done. We want to introduce you to Vivianne. God has given her a heart to step in and step up for families, which she has done for several years in the states. Now, Vivianne is fundraising to move here as a long-term missionary with AIM and step into addressing broken situations like the ones we've described.
---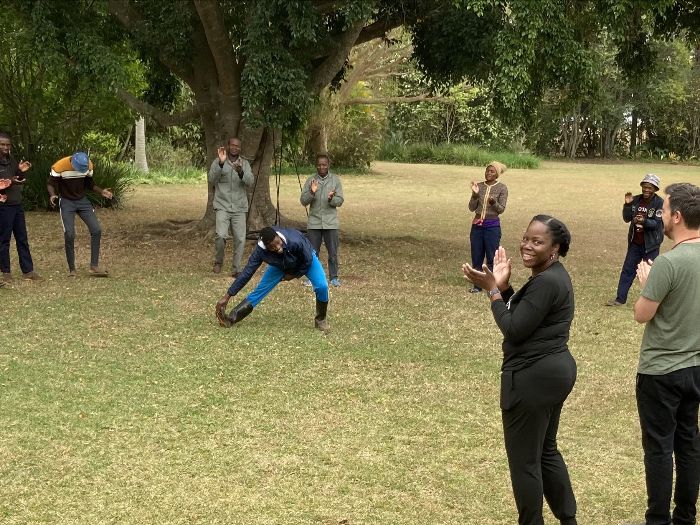 Umdoni staff and students gave Vivianne (next to Brandon) a special dance to say farewell at the end of her vision trip last September.
---
Would you consider helping Vivianne through financial support? Maybe also sharing this with a friend who might be interested in helping? We understand many of you can't financially support another cause, and we so believe in this that we ask you to consider moving your support from us to her. This is deep, important work that needs to be done for the heart and soul of Eswatini.
Support Vivianne to Help Change Lives in Eswatini
Speaking of Family Strengthening, Zach and I have been having nightly "Dad question time" where he gets to ask me about anything and I tell him everything I can. Usually, he wants to know about electricity, temperature, or other science stuff. Last week, he asked me to tell him more about Jesus. While reading his children's bible on his own, Zach happened upon Isaiah's prophecies about Jesus and wanted clarification.
I explained each part and the wider story of redemption from the fall of mankind in Genesis to the cross in the New Testament. How Jesus takes Adam's curse, our mistakes, and died in our place to cover us from judgment. So when we trust Jesus and his covering for our sin, we have God in our hearts and are free to live without guilt, shame, or fear.
Zach enthusiastically decided to give his heart to Jesus and have faith that he gives us a fresh start. That happened on Good Friday, the same holiday our first son Adam passed away nine years ago. God is so good and so faithful- what a sweet moment! We believe God can also bring redemption to our Swazi brothers and sisters and what they're living through- please pray that they will also choose to live freely under God's love and grace.
We are thankful for all we have as a family and for each of you! We're grateful for Levi's safe delivery, his and Melinda's health, and getting to celebrate a rainy Easter in a dry, warm home even when there's no power (the downside of solar).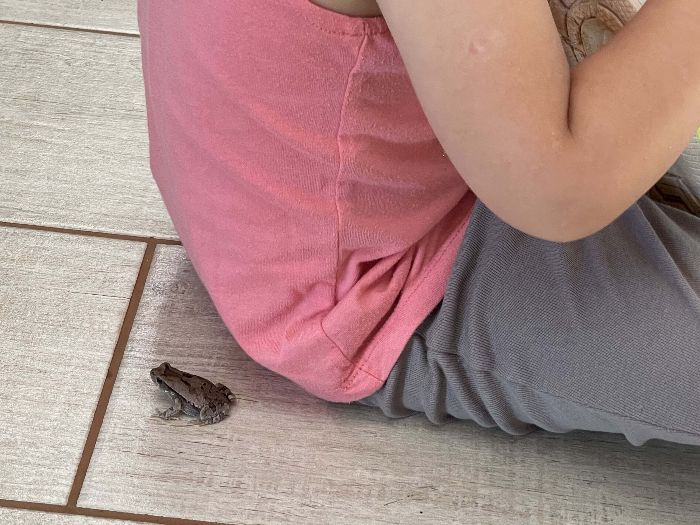 Zach's shoe had a frog inside. Glad we asked him to check that day!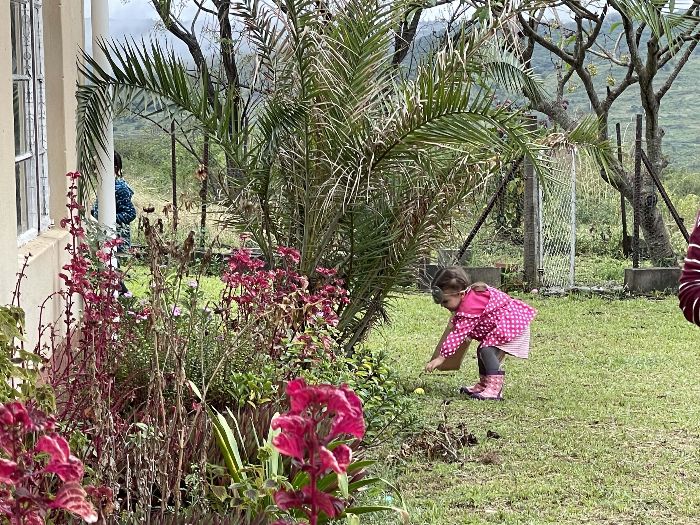 Our kids were excited to be able to hunt for Easter eggs this year!
Thank you for your prayers and partnership in the ministry we get to do here in the kingdom of Eswatini. Happy Easter, hope you all have a great week!! If you don't have experience walking with Jesus, please know that he wants to journey alongside you. He is good, gracious, and completely worth it. If you have any questions, we would be happy to share our experiences with you and be a friend. If you have any prayer requests or anything on your heart, please let us know!
---
If you don't have experience walking with Jesus, please know that he wants to journey alongside you. He is good, gracious, and completely worth it. If you have any questions, we would be happy to share our experiences with you and be a friend. If you have any prayer requests or anything on your heart, please let us know!